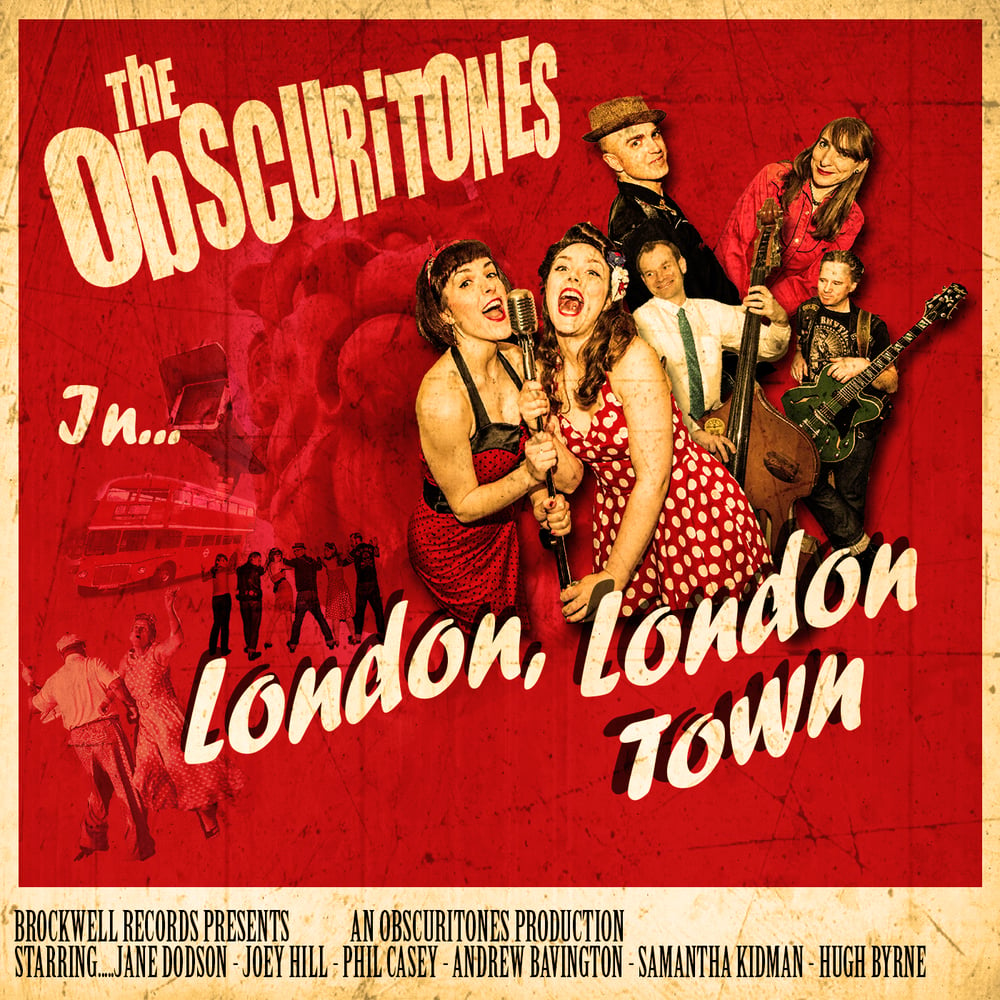 The Obscuritones - London, London Town CD.
by The Obscuritones
£

10.00

/ Sold Out
---
The Obscuritones present a brand new Heart-Pumping-Foot-Stomping album 'London, London Town'.
This is the second album from the UK's unique Rockabilly-esque-female-fronted band that brought you the YouTube hit 'Rockabilly Boogie'.
Full of lush harmonies, twangy guitars, sexy-slappin' bass 'n' dastardly-dynamic drums; this album was inspired by night's outs, gigs, and living & loving life in the Rock n Roll underbelly of the one of the best cities in the world, The Obscuritones's home of London, UK.
'London, London Town' is a joy ride of sassy songs that will dance your feet off, grin your face off, break your heart (and mend it again) turn you on, turn you upside down and even throw a punch at those angry zombies...
Recorded in analog at Gizzard Studios this is for fans of Rockabilly, Rock n Roll, Rhythm & Blues, 60's Garage, Psychobilly, Country & Western and Surf.
Track by track guide:
Ready to Roll (Kidman) –RnR with sexy stops, urgent vocals, about waiting for you man to hurry up and take you dancing!
Stop Playin' With My Heart (Kidman) – Rhythm n blues inspired by the likes of Ruth Brown, a 3-part harmony- plea to a lover to stop messing around.
London Town (Casey, Byrne) - A dark, foot-stomping guitar-heavy chanting anthem for London immigrants. Watch the video: https://www.youtube.com/watch?v=VUYa1QIDxls
Juarista (Byrne)- This heart tuggin' 'Western' is step away from the usual adrenaline fuelled brand of Obscuritones song – the guitars sadly moan and the percussion clip-clops as the lonesome cowgirl strives through the desert away from a sheriff in pursuit with a noose…
Grow Up (Hill, Byrne) – a swinging melody with close harmonies, bluesy licks and driving bass, I don't wanna grow –up – do you?!
Say You Love Me (Kidman) - 60's garage style sass, with a slight nod to the The 13th Floor Elevators & The Shangri-Las, this is a dark warning to a cheating hound-dog.
Mystery Train (Arthur) The Obscuritones dust off this old favourite and show-case their lead guitar skills with bags of energy and excitement.
Hoochie Coochie (Hill, Byrne) A passion-fuelled sexy rock n roll number with a bouncing bass merri-go-round rhythm.
Fill Our Boots (Hill, Byrne) A gentle Country number with luscious 3-part harmonies; Fill Our Boots is about picking yourself up when you're feeling lost n low.
English Summer (Byrne, Hill, Romano)- Bouncy and poppy with a rollercoaster of a guitar solo English Summer broaches the subject of the British obsession with the weather; the summer's just ain't what they used to be!!
Revenant Stomp (Byrne) It wouldn't be an Obscuritones album without a bit of Zombie-fighting-Psychobilly! With crashing drums, heavy slappin' bass, menacing stabbing guitar and eerie banshee backing vocals, Rev' Stomp is a witty metaphor for a heart attack in the form of a zombie invasion.
4.54 Billion Years a Rockin' (Byrne) - The album waves goodbye with a Sun-Studio-inspired ode to the lynchpin of the band's sound – Rockabilly. Recorded in the traditional way of a live take together in the studio; this is the imagined story of the evolution of rock n roll -from the ages of the dinosaurs(!)- and of The Obscuritones themselves.